Let's talk politics! It is a scary thought, I know. Divisive. Painful. Impassioned from every angle. But there is so much going on! 
Bad news in feminism:
I haven't weighed in yet on the college admissions scandal. You might be wondering what this has to do with politics and feminism? Feminism is equal rights and opportunities for women - all women - and this scandal has made it crystal clear that the (mostly) white, rich, and powerful are treated very differently in this country than people of color and/or people with less financial means - and that is very political. We don't yet know what jail or prison time (if any) the privileged offenders in this case will receive but we do have some historical context for what the punishment looks like for a much lesser crime if you happen to be a poor black woman. Tanya McDowell is a black woman who, in 2011, was homeless and "living" in Bridgeport, Connecticut. She and her five-year-old son were allowed to sleep at a Bridgeport apartment (not their own) that was outside the more desirable school district in Norwalk, but they lived in her van or in homeless shelters during the day. In order to help her son get the best education possible she enrolled him into the Norwalk school district that was later determined to be "outside of her district." She was found guilty of felony larceny and imprisoned for five years. So one - given that she and her son were technically homeless I can't imagine how could the school could possibly be outside of her district. And two (and more importantly) - how is a five-year prison term for a homeless, single mom in any way justice that fits the crime? Seeking an equal education for your child should not be a crime. The good news in Tanya's case is that her son lived with her mom while she was in prison and he has exceeded her expectations in school. For Tanya's part, she says that she would do it all over again. I'll bet the privileged folks who got caught in the college admissions scandal would not say the same. Their children had every opportunity for a quality education and they still broke laws and moral codes to try and get them more. It is doubtful that their careers and companies were worth it  - for something better than the best their money could already buy. The privileged vs. the poor, with no sign of equality in sight.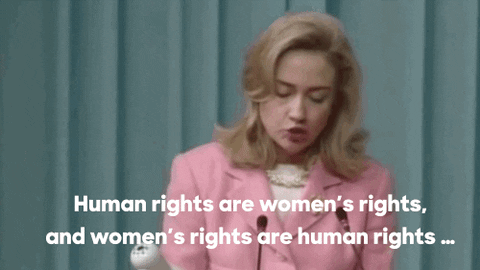 In world news that hits close to home, it has been widely reported that the U.S. is attempting to remove the word "gender" from UN Women's Right's Documents and is refusing to "reaffirm" it's commitment to the International Declaration on Women's Rights that we were instrumental in setting up in 1995 (see GIF above). Heavy sigh. Each of these moves raises concerns that women's rights will be diminished not just here at home, but around the globe.  The political voice of the United States echoes throughout the world and those countries who are already on the fence will undoubtedly fall backward, not forward. The Guardian points out that the U.S. seems to be aligning itself politically with countries who consistently strive to undermine the rights of women, such as Russia, Iran, and Saudi Arabia. That is absolutely frightening. In my opinion, these actions and inactions by the U.S. at the Commission on the Status of Women/UN in New York this week offer indisputable evidence that our country is taking a wide turn as it relates to women's rights. That turn is not going in a direction that is in any way going to be beneficial for women but rather is one that is harmful to women and girls throughout the world. We can't even get an Equal Rights Amendment passed in our own country, let alone be a world leader on the topic. Instead, we seem to be stepping back in time.
Good news in feminism:
Let's talk about the Beto O'Rourke situation. Admittedly, I haven't settled on a candidate yet, as I'm sure most haven't. But the amount of press time that Beto is getting in comparison to the many women who are in the running is pretty staggering; magazine covers, air time, etc. And his comment this week that he was essentially born to run for the presidency? Really. Can you imagine a woman saying that? The reason that this is in the good news section is because: Amy Klobuchar. Her response to Beto's "born to run" comment was such a solid, feminist rebuttal. "I wasn't born to run, but I am running." Yes. Thank you. Run Women Run.
As I'm writing this: Breaking news that the Mueller Report is in. So many thoughts and feelings running through my head. It has to be released, right?! Feeling frustrated already by what I know is to come. Arguments about what can and should be released. What will happen if it is released? So many questions will be answered by the report and so many new questions will surface. Ugh. But I did think this was funny.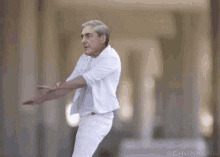 OK, turning to international politics, I am loving New Zealand Prime Minister Jacinda Arderns. Her compassion, composure, and leadership during the "darkest days" of New Zealand have been nothing short of inspiring and have made me wistful for a leader who evokes such emotions. Her public and purposeful refusal to ever utter the killer's name and to only speak the names of the individuals who lost their lives; her steadfast and emotional support of the mostly immigrant victims and their loved ones; and her swift action in banning assault weapons have all illuminated both her humanity and her abilities to lead her country during a difficult time. She actively participates in prayers with the mourning, and her words and actions have seemingly provided comfort as well as a sense of fellowship to her country. It is, quite honestly, embarrassing to compare her to our president who offers a mere tweet with "thoughts and prayers" to our many mourners following yet another mass shooting in our country. I believe Prime Minister Jacinda Arderns is well on her way toward being remembered in history as one of the great leaders of our time.
To round out the political discussion, I'd like to go local. I was honored to be invited to speak at a Dem Fems of Silicon Valley meeting this week. This is an inspiring group of women who are devoted to advancing female democratic candidates and to promoting the ideals of feminism in all aspects of life. Many of the women hold a position in public office, such as Belmont Mayor Davina Hurt, who initially reached out to me. l was graciously invited to speak about my book, F is for Feminist, as well as about the #FeministFriday blog. The topic of the meeting was how to bring girls into the leadership pipeline. My feeling is that the best way to do that is to teach our children, not just our girls, that women belong in leadership roles and that all people are worthy of respect and opportunity. We must teach our girls at an early age that they have a voice and should feel comfortable using it. Having role models such as the Dem Fem women allows our children to see and experience women in leadership roles up close. These women, and women like them across the country, are steadily forging a path where future young women may easily follow into leadership roles - in politics, the corporate world, or whatever their chosen field may be. The importance of women in leadership roles cannot be understated. Their impact is immediate and enduring, their legacy incalculably powerful.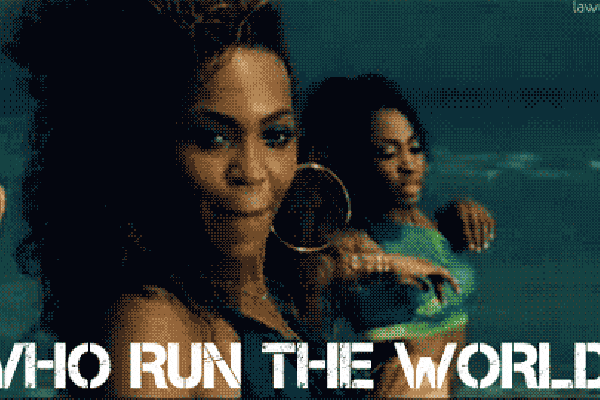 As I've mentioned before, I have found hope and comfort in the rising swell of women who have run and are running for office. I am grateful to women leaders in local, national, and international politics and elsewhere. I am convinced it is only through them that we will move forward toward equality. Equal representation often appears as a hazy dream but women like Amy Klobuchar (and the other potential female democratic presidential nominees), Prime Minister Jacinda Ardern, Mayor Davina Hurt,  and the Dem Fems of Silicon Valley clearly demonstrate that women can, will, and in some cases do, run the world.
Happy #FeministFriday!
xokim
 Thank you for joining me! To receive this blog every Friday please go to beaboldgirl.com and hit subscribe. You may share this blog on the social media site of your choice by scrolling down toward the end where you can also follow us on Facebook or Twitter.
Please retweet and share with your daughters and sons, mothers and fathers, family and friends! I read somewhere that sharing is caring;)
Thank you!
Please reload