This week I am only going to talk about one thing. It is something that every girl (and teacher!) should know about and it is one of the best uses for a cell phone that I've seen. Lessons in Herstory. It is an augmented reality (AR) app and it is nothing short of amazing. As we know, United States history is just that - HIS story. Only 11% of the stories in U.S. history books are about women, which obviously means that a whopping 89% of the stories in history books are about men! Almost everyone, even the youngest of school children, can rattle off names of men in history; George Washington, Thomas Edison, Abraham Lincoln, Christopher Columbus...the names practically roll off of your tongue because they are so ingrained into our memories. But what about the women in history? What about HERstory? Many of those stories have gotten lost. Until now.
Lessons in Herstory is an app that can be held over a portrait of any man in a U.S. history book and it will automatically pull up a lively story of a woman in history during that same time period! It is genius and empowering. I've said numerous times that "You can't be it if you can't see it" (my favorite Marion Wright Edelman quote- she is also in the next gif with another great quote). This app opens lifetimes of herstories right before your eyes. I don't have a children's U.S. history book anymore so I can't try it but it looks brilliant.
Check out the Herstory video where kids talk about history books. One says, "If you swipe through history books, you see men in like, every single page." (side note: the word "swipe" cracked me up. Do kids swipe through a book now? Made me think of other apps lol) Another girl says, "Herstory is showing young girls that you can do amazing things too. It's not a man's world." When speaking of Lotta Crabtree one young girl says, "Lotta's story gives me like confidence because I know that she did it, so you know, I could do it too." These are such powerful words from girls. We need this. The video ends with the line, "When they see themselves in the pages of yesterday, they can truly aspire to be the leaders of tomorrow." Yes. It is time that the names of women in history roll off of the tongues of our children with ease. Names such as Adena Dezavala, Madam CJ Walker, Gertrude Stein, Nelly Bly, Alice Dunbar Nelson, and Zitkala-Sa. Our children need to know that women are important to the foundation of our country.
Just like RBG says: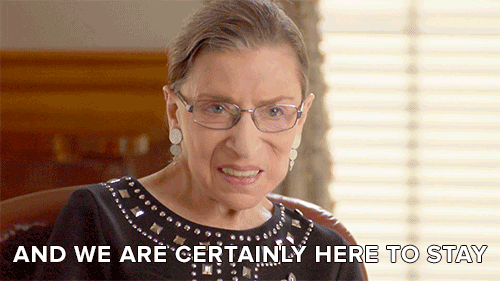 I would love to hear from any of you who have a child with a U.S. history book and are willing to check this out. A teacher would work too;) Please let me know how it goes! 
Happy #FeministFriday!
xokim
Thank you for joining me! To receive this blog every Friday please go to beaboldgirl.com and hit subscribe. You may share this blog on the social media site of your choice by scrolling down toward the end where you can also follow us on Facebook or Twitter.
Please retweet and share with your daughters and sons, mothers and fathers, family and friends! I read somewhere that sharing is caring;)
Thank you!
Please reload