How fortuitous that International Women's Day lands on #FeministFriday! Since the purpose of IWD is to is globally celebrate the social, economic, cultural and political achievements of women, there will be no bad news this week. Today, we celebrate!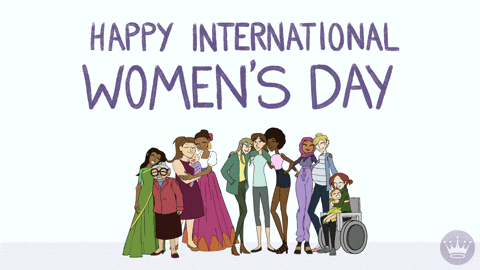 Good news in feminism:
First Wonder Woman and now Captain Marvel. Women are taking on superhero roles in their own films and showing both girls and boys that women are strong and capable. Brie Larson stars as Captain Marvel and the movie was both co-written and co-directed by Anna Boden. I've read that there are a few lines that leave little doubt that a woman was involved in the making of the film. More of that please.
In another alternate universe, Princess sisters Elsa and Anna are Climate Change Scientists, Mulan is a Title IX Lawyer, and Princess Jasmin a U.N. Ambassador.  Matthew Burt is an illustrator who modernized Disney princesses by reimagining them as empowered women with impactful careers. The best part is that their careers require no leap of faith to imagine and you still feel enchanted. Simple.Thrifty.Living commissioned the work that you can enjoy in its entirety here. The included bios are almost as much fun as the illustrations. It all just works together magically.
One last-but-not-least thing for the arts. Shonda Rhimes and the female-led Grey's Anatomy made history this week with their 332nd episode, becoming the longest running medical show in history. 332 episodes! The amazing and talented Shonda Rhimes tweeted, "Oh, just over here making some history..." and some really great television. Last year star Ellen Pompeo made some history of her own as she became television's highest paid actress for her role on Grey's. I love how Shonda and Grey's weave topical issues such as gun control, heart attacks in women, drug and alcohol abuse, domestic abuse, and #metoo into the lives of her main characters as well as those who are transient. The catchphrases will be forever ingrained. "McDreamy and McSteamy," "You're my person," and "dark and twisty," to name but a few. And the speeches. The Grey's women are flawed perfection. I will always miss Christina Yang so I will leave this topic with a quote from her. "Don't let what he wants eclipse what you need. He's very dreamy but he's not the sun. You are." -Christina Yang.
In equal pay news, a Judge ruled last week that companies with more than 100 employees must reveal their pay data including wages by gender, race, and ethnicity with the Equal Opportunities Employment Commission. This is a big step toward closing the pay gap. According to Yahoo News, "Sunu P. Chandy, legal director of the NWLC, pointed out that, "Because we don't like to talk about pay, and because some employers prohibit talking about it, it's hard to detect pay discrimination, and even harder to challenge it." Mandatory gender pay reporting is a necessary first step towards changing that." Progress! 
Please enjoy one of my favorite pages from
F is for Feminist, because it is too perfect not to include right here.
In stunning news from 1970 (kidding, it is from this week), female flight attendants for Virgin Atlantic Airways will no longer be required to wear makeup and it just became easier for them to wear pants. Seriously. Apparently they have been allowed to wear pants for a minute but it was a hassle to request them and actually get them in hand. Pants, as well as skirts, will now be a standard part of their uniform, with or without makeup. Good news? Yes. But still worthy of a sigh.
Last year an all-female fire department squad defended the City of New York for the first time in history. According to Women You Should Know, this brought the total number of female firefighters in NYC to a total of 72. Sound like a lot? There are nearly 11,000 firefighters total in NYC. Inching forward.