How fortuitous that International Women's Day lands on #FeministFriday! Since the purpose of IWD is to is globally celebrate the social, economic, cultural and political achievements of women, there will be no bad news this week. Today, we celebrate!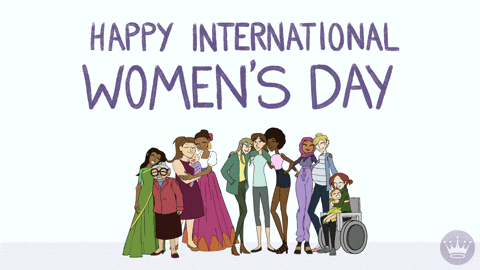 Good news in feminism:
First Wonder Woman and now Captain Marvel. Women are taking on superhero roles in their own films and showing both girls and boys that women are strong and capable. Brie Larson stars as Captain Marvel and the movie was both co-written and co-directed by Anna Boden. I've read that there are a few lines that leave little doubt that a woman was involved in the making of the film. More of that please.
In another alternate universe, Princess sisters Elsa and Anna are Climate Change Scientists, Mulan is a Title IX Lawyer, and Princess Jasmin a U.N. Ambassador.  Matthew Burt is an illustrator who modernized Disney princesses by reimagining them as empowered women with impactful careers. The best part is that their careers require no leap of faith to imagine and you still feel enchanted. Simple.Thrifty.Living commissioned the work that you can enjoy in its entirety here. The included bios are almost as much fun as the illustrations. It all just works together magically.
One last-but-not-least thing for the arts. Shonda Rhimes and the female-led Grey's Anatomy made history this week with their 332nd episode, becoming the longest running medical show in history. 332 episodes! The amazing and talented Shonda Rhimes tweeted, "Oh, just over here making some history..." and some really great television. Last year star Ellen Pompeo made some history of her own as she became television's highest paid actress for her role on Grey's. I love how Shonda and Grey's weave topical issues such as gun control, heart attacks in women, drug and alcohol abuse, domestic abuse, and #metoo into the lives of her main characters as well as those who are transient. The catchphrases will be forever ingrained. "McDreamy and McSteamy," "You're my person," and "dark and twisty," to name but a few. And the speeches. The Grey's women are flawed perfection. I will always miss Christina Yang so I will leave this topic with a quote from her. "Don't let what he wants eclipse what you need. He's very dreamy but he's not the sun. You are." -Christina Yang.
In equal pay news, a Judge ruled last week that companies with more than 100 employees must reveal their pay data including wages by gender, race, and ethnicity with the Equal Opportunities Employment Commission. This is a big step toward closing the pay gap. According to Yahoo News, "Sunu P. Chandy, legal director of the NWLC, pointed out that, "Because we don't like to talk about pay, and because some employers prohibit talking about it, it's hard to detect pay discrimination, and even harder to challenge it." Mandatory gender pay reporting is a necessary first step towards changing that." Progress! 
Please enjoy one of my favorite pages from
F is for Feminist, because it is too perfect not to include right here.
In stunning news from 1970 (kidding, it is from this week), female flight attendants for Virgin Atlantic Airways will no longer be required to wear makeup and it just became easier for them to wear pants. Seriously. Apparently they have been allowed to wear pants for a minute but it was a hassle to request them and actually get them in hand. Pants, as well as skirts, will now be a standard part of their uniform, with or without makeup. Good news? Yes. But still worthy of a sigh.
Last year an all-female fire department squad defended the City of New York for the first time in history. According to Women You Should Know, this brought the total number of female firefighters in NYC to a total of 72. Sound like a lot? There are nearly 11,000 firefighters total in NYC. Inching forward.
Just for fun, here is a photo of Leah from our Be A Bold Girl 2017 Calendar. #Goals #Newkindofcalendargirl #Ifyoucanseeityoucanbeit
While we are on the subject of female squads, on March 29, 2019, two women, NASA astronauts Christina Koch and Alexey Ovchinin, will become the first female duo to conduct a spacewalk all by themselves - without the presence of a man. Yeah. An interesting fact that I somehow missed - the 2013 NASA class was the first to include half women and half men. Koch and Ovchinin are graduates of that class. It sounds like it won't be long before seeing women in space will be as common as seeing women in college. Sally Ride would be proud. Article here.
Another female dynamic duo, industrial engineers Shubham Issar and Amanat Anand, have invented a simple but ingenious product that will save the lives of millions of children. You read that right - millions. Issar grew up in India and the two women met at Parsons School of Design in New York. With the knowledge that 1.5 million children under the age of 5 die of infectious diseases and that half of those deaths could be prevented by the simple act of hand washing, Issar was compelled to find a solution. The pair worked together for more than two years to design and perfect SoaPen, a fun and portable soap pen. It can be kept on a shelf in a classroom and kids (or teachers) can use it to draw on their hands (they come in colors!) before they joyfully run to the sink to wash it off. When they return to their teacher, if the artwork is gone, hands are fully clean. Lives saved. How wonderfully simple. As soap is better for kids than the antibacterial that is so commonly used in the U.S., there is a big market for their product here as well. And as a bonus, we can help Issar and Anand save the world. For every three SoaPens sold, they donate one to a low-income school. I'll bet these two brilliant and compassionate young women sleep well at night. What a gift to the world.
I'd like to end with a story about another compassionate young woman whose story is a lot smaller and closer to home. A teenage girl from Pleasanton, CA started a GoFundMe to help homeless women purchase feminine hygiene products. Audrey Combs, a 7th grader, made the observation that no one should have to choose between a meal and feminine hygiene products. She said, "The reason why I wanted to do this project is because I have noticed the growing problem of period poverty where women don't have access to feminine hygiene products. I really want to make the world a little better and I know I can't solve all the problems in the world but I want to show kindness and make others happy." She is right. We can't solve all of the world's problems but if most of us could tackle just one, what a wonderful world it could be. 
"If you think you are too small to make a difference, try sleeping with a mosquito" - Dalai Lama. 
Lastly, a quote from the official International Women's Day site. "The future is exciting. Let's build a gender-balanced world. Everyone has a part to play - all the time, everywhere. From grassroots activism to worldwide action, we are entering an exciting period of history where the world expects balance. We notice its absence and celebrate its presence. Balance drives a better working world. Let's all help create a #BalanceforBetter."
On International Women's Day and everyday, let's commit to talking to our children. Let's tell both our girls and our boys stories like these that prove that gender balance makes for a better world.
Here is to doing our part to help create a #BalanceforBetter!!
xokim
Thank you for joining me! To receive this blog every Friday please go to beaboldgirl.com and hit subscribe. You may share this blog on the social media site of your choice by scrolling down toward the end where you can also follow us on Facebook or Twitter.
Please retweet and share with your daughters and sons, mothers and fathers, family and friends! I read somewhere that sharing is caring;)
Thank you!
Please reload