What started as a Women's March on Washington spoke to so many people that it soon blossomed to become an unprecedented world-wide event.  USA Today reported that 2.6 million people participated throughout the world: 32 countries and every state in the U.S.. Crowds in every city exceeded expectations.  It was one of the most notable protests in history and it will be remembered by history. Just like this one: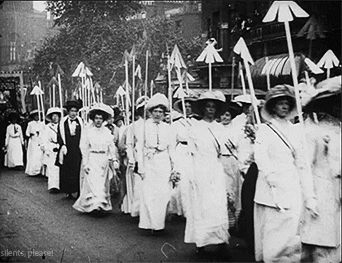 This year, women marched with their daughters, mothers, sisters, and friends.  Men joined in as well, husbands, fathers, brothers, and friends.  We were all just human beings with a common cause.  I went to Oakland, California, with my daughter, our neighbors, and some friends.  The girls (who are teenagers) had never experienced anything like it.  They were so excited by the energy.  We read the signs, "Stronger Together," "Girls Just Wanna Have Fun-damental Rights," I Welcome Refugees," "Keep Your Laws Off My Body," "Love, Not Hate, Makes Us Great!," "Climate Change Is Real," and a favorite that kind of summed it all up for me, "Too Many Issues And Not Enough Signs." There was something for everyone.
 It was comforting to be around so many people who shared the same fears and concerns.  At first I felt almost joyous to be in the company of such a diverse crowd and to know that we shared a common vision to stop what is happening, to know that there is such strength in numbers, and that we are all prepared to do what we can to stop the backslide that our country is on.  And then after a while I was looking around and reading hundreds and hundreds of signs and the reality of the number of frightening issues that we are facing in the next four years hit me hard.  It reminded me of Alice in Wonderland and I was at the bottom of a funnel with all of the signs swirling around above me (or is that The Wizard of Oz?!) and one of them carried a big, orange cheeto-head that was like an evil Cheshire Cat as people chanted, "Hey hey, ho ho, Donald Trump has got to go!"  Like Alice in Wonderland, it sounds comical, but it was kind of scary. Because I didn't want to detract from their excitement, I turned away from the girls to one of my friends to cry.  Granted it doesn't take that much to make me cry these days but still, I was momentarily overcome by fear. 
An understanding hug and more time spent marching put my emotions in better balance as I focused on the love and the hope, along with the energy and the power of the movement that was taking place all over the world.  There were (and are) BOLD girls everywhere.
Resist and Persist.  The new mantra for many of us.  During Hillary's run for the presidency her slogan, "Stronger Together" didn't really resonate for me.  It didn't seem to have a deep meaning.  It sure does now.
xx, Kim
Thank you for reading!
Please click on the button on the previous page on the right hand side and share a story or the name of women and girls (either you or someone you know) who are proving that we are Stronger Together!  Or send me an email at kim@beaboldgirl.com with the subject line: Stronger Together!
And... You may share this blog on the social media site of your choice by scrolling down toward the end where you can also follow us on Facebook!
As always, please feel free to leave comments or suggestions below or via the email noted above.  I'd love to hear from you.  Please keep it positive and clean!  If this isn't a vision that you share, just don't read it and certainly don't reply. This is a post for girls as well as women, not a place for political dissent, anger, or nastiness in any form.  Thank you!
Photos courtesy of Danean Sheil, Courtney Carrerras, and Lucy Perrone. Image via. GIF
Please reload